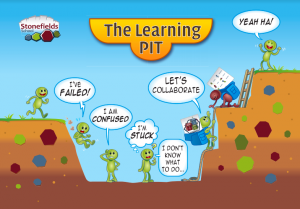 At the start of my TAI I thought the best thing to focus on for my reluctant boy writers was to give them strategies to get out of the Learning Pit. Knowing what to do, when they didn't know what to do or even where to start is a key skill.
Happily I discovered the majority of my group had strategies they were happy to use when in the Learning Pit and were able to identify when they were stuck.  One of my target learners struggles a bit when stuck so this has been a personal focus for him.
I have been peppering this in to my teaching to keep up the good learning the my group. However I switched my focus to the Learning Process.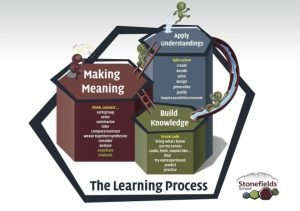 My hub teacher and I have been delving more deeply in to the Learning Process as part of a whole school review. Our assumption was that the learners knew the Learning Process well and could use and apply independently. Well how wrong we were!
In a pop quiz of the learning process we found few learners could put the correct verbs in the correct section of the Learning Process.
We reexamined how our practice was enabling our learners to use the Learning Process, though I often labelled what we were tackling in our writing lessons but didn't talk to the verbs or explain how to do them.
My slides looked like this, (on a good day!). Correct colour, learning process screenshot, correct title.
I started making a simple change to highlight the verb in the correct colour and underline to draw attention to it. For the learners and myself to know to explain what it means and question if the learners need more clarification.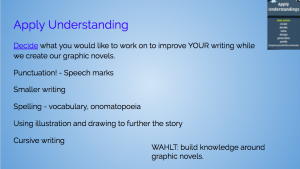 I've also started to include the whole Learning Process to show where in the process they are.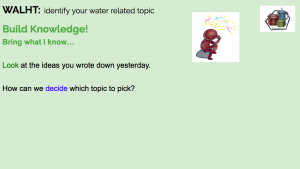 As this block of information writing and our exploration of the Learning Process continues I'm going to continue unpacking the most important verbs for that session with the learners. I'll use this as an assessment tool to see whether they understand where in the Learning Process they are and if they understand what learning they need to be doing.